FAQs a short list of commonly asked questions (feel free to ask more!)
---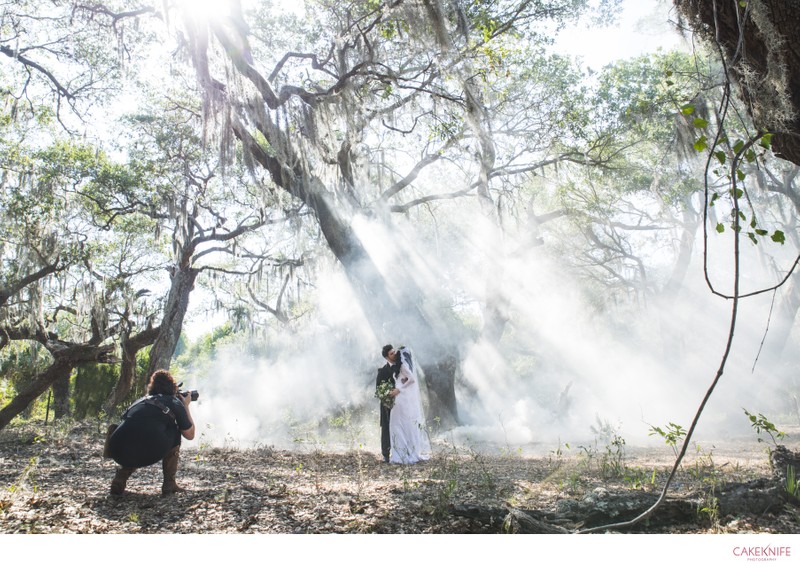 If you want drama (the good kind) smoke bombs are our jam.
What you need to know about your wedding?
The food will be consumed, the flowers will wilt, and your gown may never be worn again, but your wedding photographs will last a lifetime. Resist the urge to hire your friend with a "nice" camera or whomever is the least expensive. The best wedding photographers aren't always snatched up right away, so take time and do some research. Here's a list of some questions to ask any potential wedding photographer whom you might consider for your special day.
Why is choosing a professional wedding photographer so critical?
If there ever was a time to pick a veteran over a newbie, this is it. Consider selecting a more experienced, if slightly more expensive, professional to get the results you desire. Weddings move FAST. It's not only about taking great photos, but it's knowing how to predict moments, corral people and mesh well with everyone, all while doing it while the light is still good and the schedule is on time. Your wedding will have a set of unique and special photo challenges. That is why it is important to hire not only a professional, but someone who is a professional in "wedding" photography. I have been shooting professionally for 15 years with a proven record of accomplishments, attested to by my past clients. You can view some of their comments in the testimonials section of this site. Time and again the words beautiful, unique and professional are used.
Do you work with a second photographer?
Weddings move fast and can be hectic. A second photographer is essential for setting up lights as well as photographing from different angles. It ensures that the first photographer will not miss any special moments. For example, in a recent wedding my second photographer photographed the groom's face when he first saw his bride walking down the aisle. Simultaneously I photographed the bride as she walked down the aisle. As a team we captured important shots that would simply be impossible with just one photographer. I always have a second photographer and we have worked together for years. I have a selective group who are not only great shooters, but they set up the lighting equipment that helps make our imagery so unique. The lights we use can be challenging so I work with those who understand lighting and can set it up quickly. Most of them have degrees in fine art and have been shooting weddings for years.
Do you have backup equipment? And are the images backed up day of the wedding?
Cameras can fail at any time and without warning. Such is rare but I have had it happen and my backup camera saved the day. Imagine coming at the end of the day only to discover your hired photographer's camera failed. This is why it's important that your photographer owns the latest camera that can shoot two memory cards at once. We always carry two back up cameras with two cards each. The second memory card is simply duplicating the first and is backing up everything in real time as we shoot. That way, if for whatever crazy reason one card fails, the other card in the camera has all the images backed up.
What style(s) do you specialize in?
Most shooters use a blend of several styles, however if portraits are important to you, then make sure that's something they specialize in. We blend fashion portraiture with editorial. We use special lights to create a very polished, surreal and unique look. Throughout the rest of the day, we turn to a documentary style, utilizing natural light with a flash. Overall it makes for a complimentary combination that is magazine worthy.
Do you have insurance?
Professional wedding photographers will have the proper insurance for their business. It protects the photographer against equipment theft, but more importantly, it provides liability protection in case Aunt Judy trips over the camera bag and breaks her leg. We carry general business, equipment and liability insurance. We would be glad to provide proof of insurance at your request. If a wedding photographer does not have insurance, that is a red flag that they are probably new to the industry or they simply do not take their business seriously.
What will you wear on my wedding day?
We always dress professionally and in something we would wear if we were a wedding guest (but also can move around in to capture every perfect angle and moment). We generally steer towards darker clothes so we blend in better, but on a hot summer day we may follow the theme of lighter hues.
Why does wedding photography seem so expensive?
You may think this even if you don't ask the photographer. Many brides are asking themselves this question! Wedding photography seems like easy money. Work for a day and get all this cash, right? But most full time wedding photographers can own up to $20,000 dollars worth of equipment and often work over 60 hours a week. Remember those hundreds of photos they took? It takes several days to edit, process, enhance, and retouch the images. Add software, advertising, insurance, studio expenses, and many photographers barely scrape by in the first few years they're in business.
As a full time wedding photographer I own all of the best equipment, I am fully insured, and I use the latest software. Most importantly, I'm a veteran photographer. I know how to handle any contingency that might come up and how to keep you and everyone calm if things run a little behind or get slightly chaotic. I can still get great photos even if the lighting or location changes and they might, because that's how weddings roll.
Of all the expenses that come with throwing a wedding, some being impractical and conspicuous, the photos hold their worth. Their value increases with time, having an inverse relationship to your recollection of the day. The cake is gone, the band is now just a faint ringing in your ear, the dress has been put in your closet, the flowers have long wilted and so what are you ultimately left with in the end? Your photos. Expensive? Maybe, yet compared to what? There will be countless times you will sit down with your friends and loved ones to look at your wedding album. What they see will depend on your choice of a photographer. The cost? When done right. Priceless.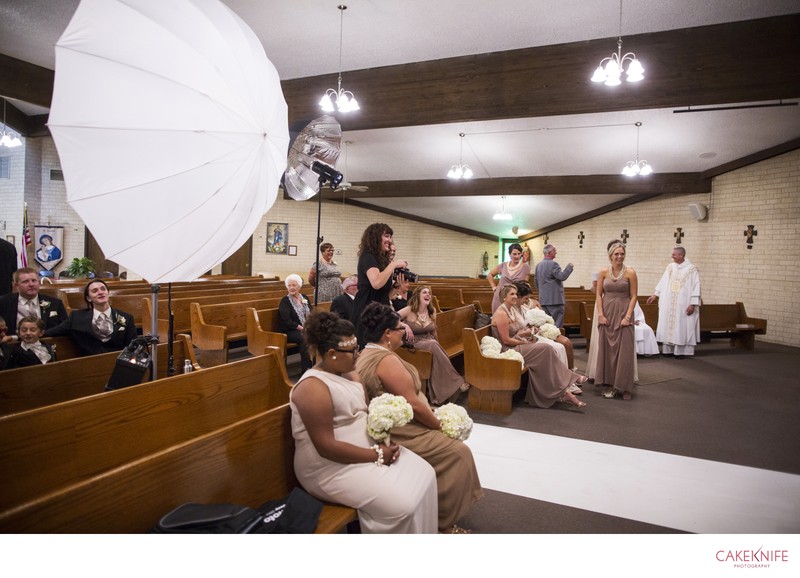 Using big soft lights indoors for higher quality family portraits.