Meet Marla Rutherford based in Boulder, Colorado
---
It All Began on Santa's Lap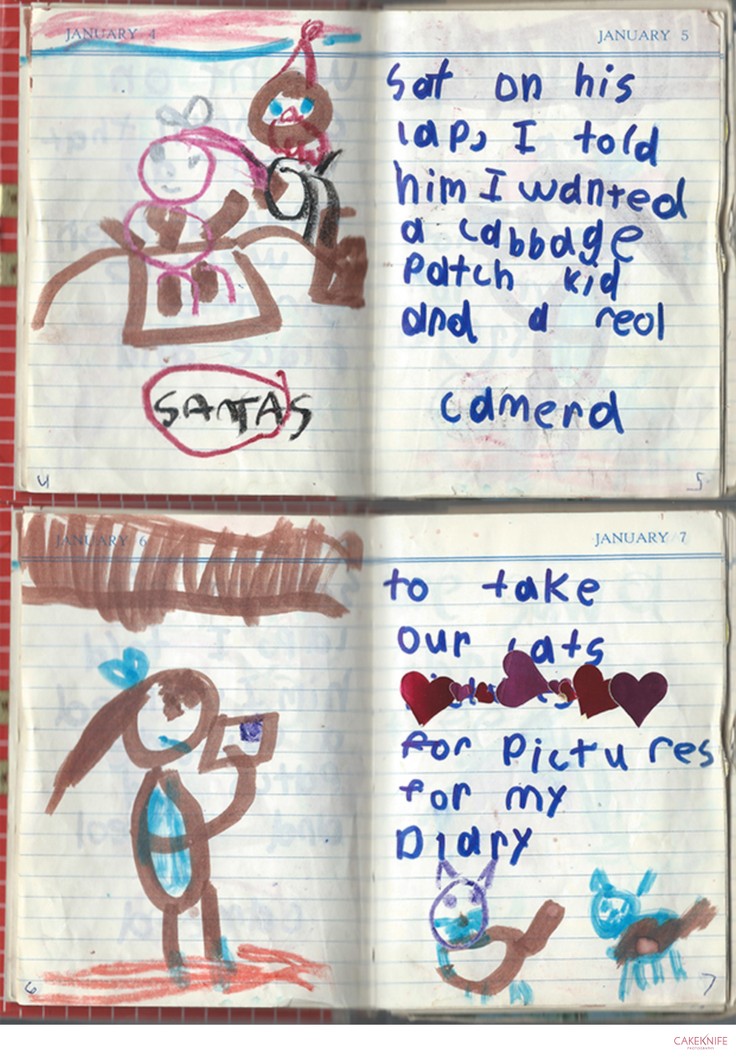 My 7-year old diary entry.
It was my first time meeting Santa, and at age 7, I wasn't messing around. I had a firm, one item only wish list. I wanted a camera.

At that time my desire for a camera had less to do with a passion for photography and more to do with a passion for my cat Mickey. Somewhere, probably in one of the storage bins my mom keeps, there are hundreds of photos of Mickey most of which are too blurry. I can't imagine how much money my mom dropped at one-hour-photo, but she never complained. I was happy, so she was happy.
---
I eventually left home to study Psychology at Boston University. Four years later, with a psychology degree in one hand and a ton of school debt in the other, I realized listening to people's problems was not my thing. So, now what?
My sister is in advertising, and as luck would have it, she worked at an agency in Boston as I was finishing up school there. One day we met for lunch and were going through the photos I had taken while on Semester at Sea. She kept telling me how I had a great sense of composition, and a photographer's eye. She suggested a school many of her friends in advertising had attended, the school was The Arts Center College, just outside the concrete jungle of L.A.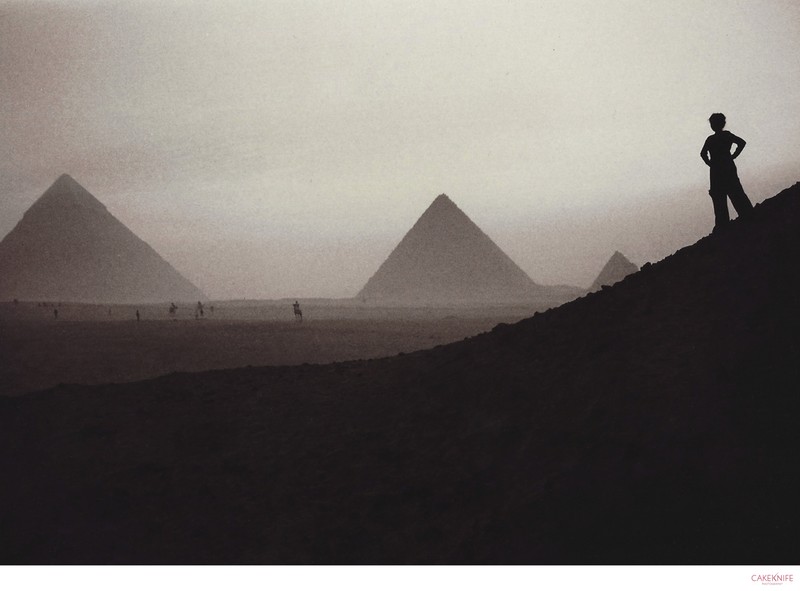 Self-portrait of me on Semester at Sea.
I remember the day I moved to California to attend the Arts center. I was flying over Los Angeles, looking out the airplane window and thinking "what the heck am I doing?" We had been flying over homes for at least 30 minutes.
"So many people," I thought, "how am I ever going to stand out in a city so big?"
---
How I Made it as a Professional Photographer
It started with lighting. I'd stay in the school studio late into the night, almost every night, playing around with different lighting equipment and techniques while mindlessly snacking on Cheetos. Eventually, through repeated trial and error, experimenting with countless rolls of film, I developed a particular process, my signature style.
My lighting started to get attention. In the years after art college, I was busy shooting for ad agencies and clients like ESPN, LA Magazine, WWE, Entertainment Weekly, and Fast Company. I enjoyed the excitement of working with celebrities and athletes at the top of their game, not to mention the mass exposure of doing magazine work. But, after ten years, I was ready for a change.

Examples of my magazine work when I lived in LA.

I felt it was time to move back home to Colorado and figure out a new direction for myself, and for my business. In the interim, I began shooting friends' weddings. What began as a favor transformed into the new direction I had wanted. I discovered that I loved shooting weddings!
And so it began. I started up a new company that focused on weddings, but applied my editorial skills and lighting just like I would for a magazine assignment.
---
My Life
I met my husband in October of 2019 thanks to Match.Com. I'm a big believer in online dating, there is zero shame in that game. He was maybe my 200th date. I was his 3rd. Not fair really as he didn't get to experience the plethora of crazies that populate that site. Just one super-crazy lady was all it took, and it was over for him.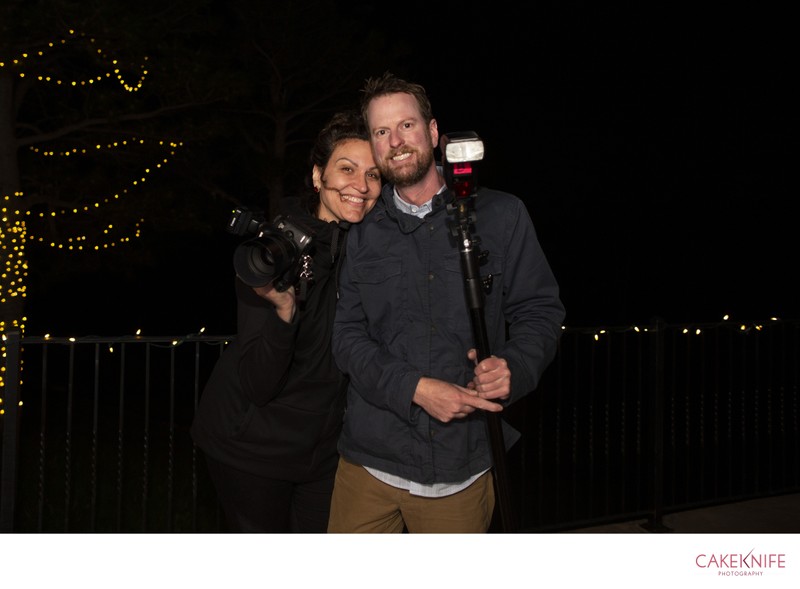 My husband, Jason, and I on a wedding shoot. Sometimes he comes along and assists, otherwise we'd rarely see one another on the weekends during the busy season!
If you are reading my bio, chances are you have already found "the one." But if not, well, good for you. Keep at it, and don't let the lack of a fiancé stop you from looking for wedding photographers! I'm serious. Why? Because when you do meet the love of your life, life can move fast. By our fifth date, Jason and I were talking about marriage. Six months later, we were wed.
Oh yeah, and we were pregnant. Our wedding cake doubled as a "gender reveal" cake.
Perhaps I was destined to follow in my own mother's shotgun wedding footsteps.
---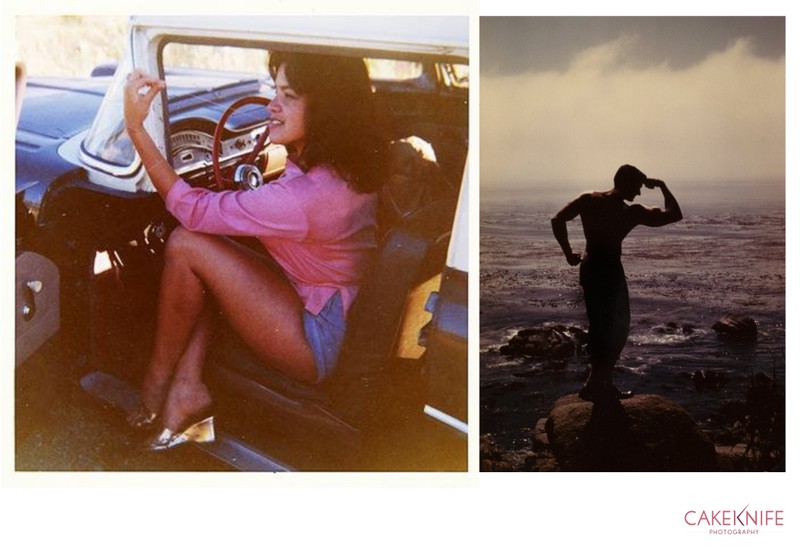 Photos of my mother and father.
My father says she "tricked" him (of course in these hot pants, she could have tricked anyone).
My mother says she "saved" him.
I believe they might both be right. Whatever the truth is, after 56 years of marriage, five children, and 15 grandchildren, their marriage is an inspiration to me.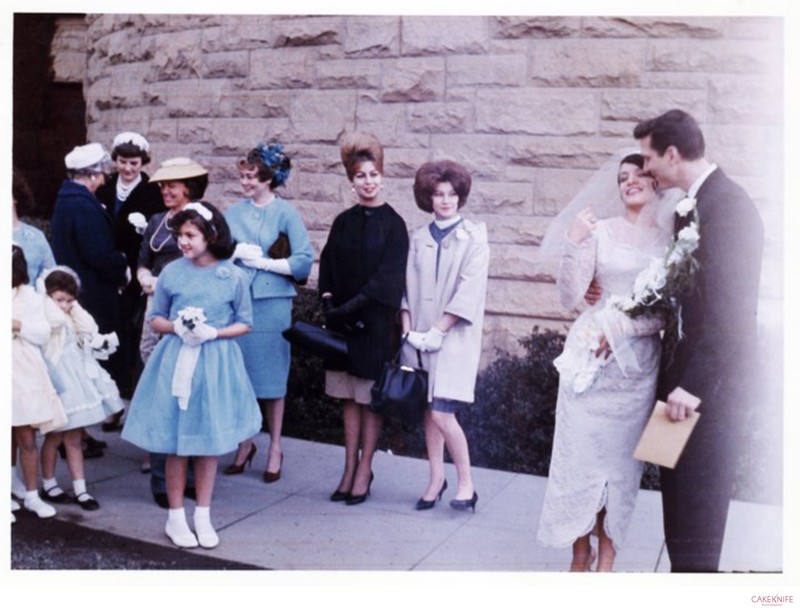 My parent's wedding.
---
Our Wedding Day
There was the whirlwind romance. There was the pregnancy. And, to add to the emotions of an already emotional day, was the fact that my father has had health issues. I had worried for so long that he wouldn't be around to walk me down the aisle, or dance my first dance.
But, he was there. Everyone I loved in the world was there.
I knew these were all moments I wanted captured, and that is why finding the right photographer was my top priority when it came to planning our wedding.

Finding out we were having a girl! Our reaction and those of my nephews and nieces.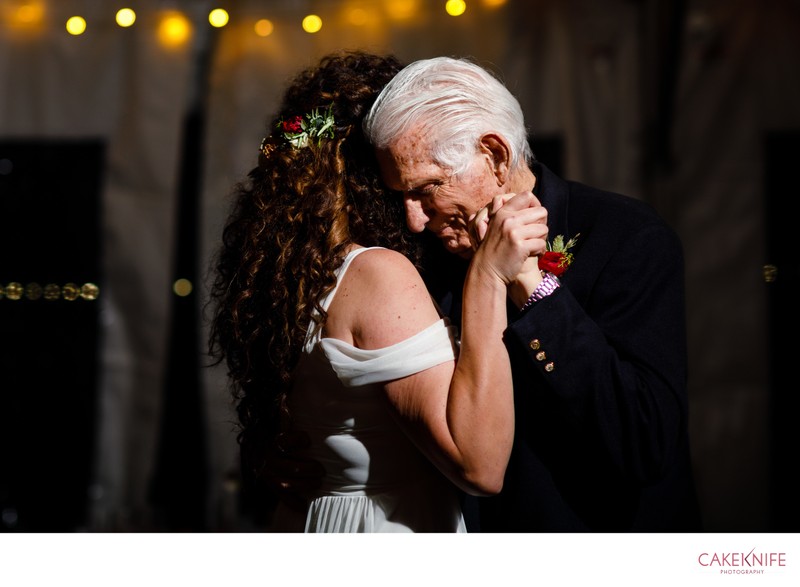 My father and I dancing the first dance.
---
Suggestions Based on My Own Experience as a Photographer, and as a Bride
The day moves so fast! Consider having a "first look" moment with your fiancé on your wedding day, prior to the ceremony. I know this isn't for everyone, but for me this time was so special. It was such an intimate moment to be alone with each other, before the guests arrived.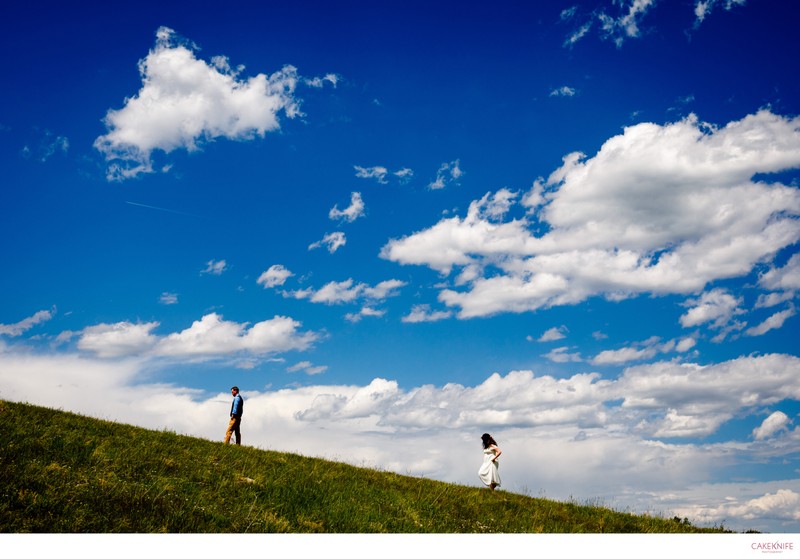 Our first look.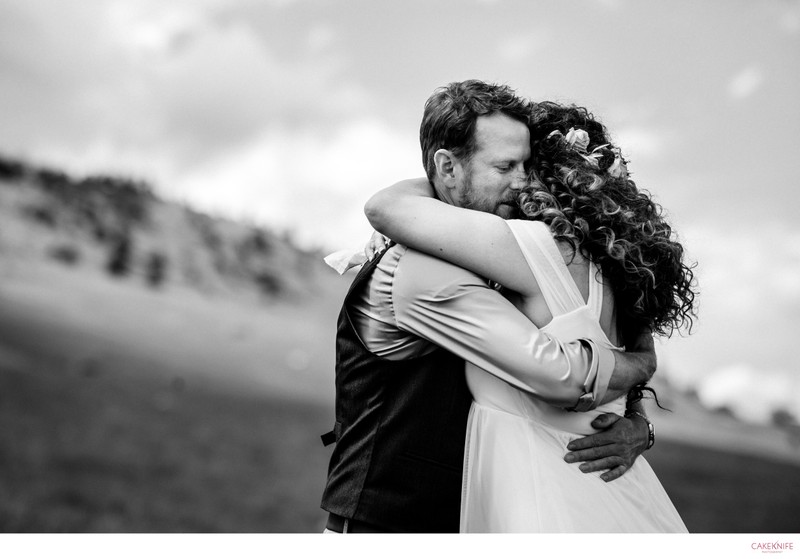 With the right photographer your photos will tell a story, recording all the major action, but including all the "side-stories" and "sub plots" that will make your story unique. Make sure to communicate with your photographer about any moments you anticipate being big ones for you. For me, that was the father/daughter dance, and the reactions of my nieces and nephews during the gender reveal. But there are some moments you cannot anticipate, some moments you will not see. A good wedding photographer will curate all the right images, and present you with a story that you will read over and over.
---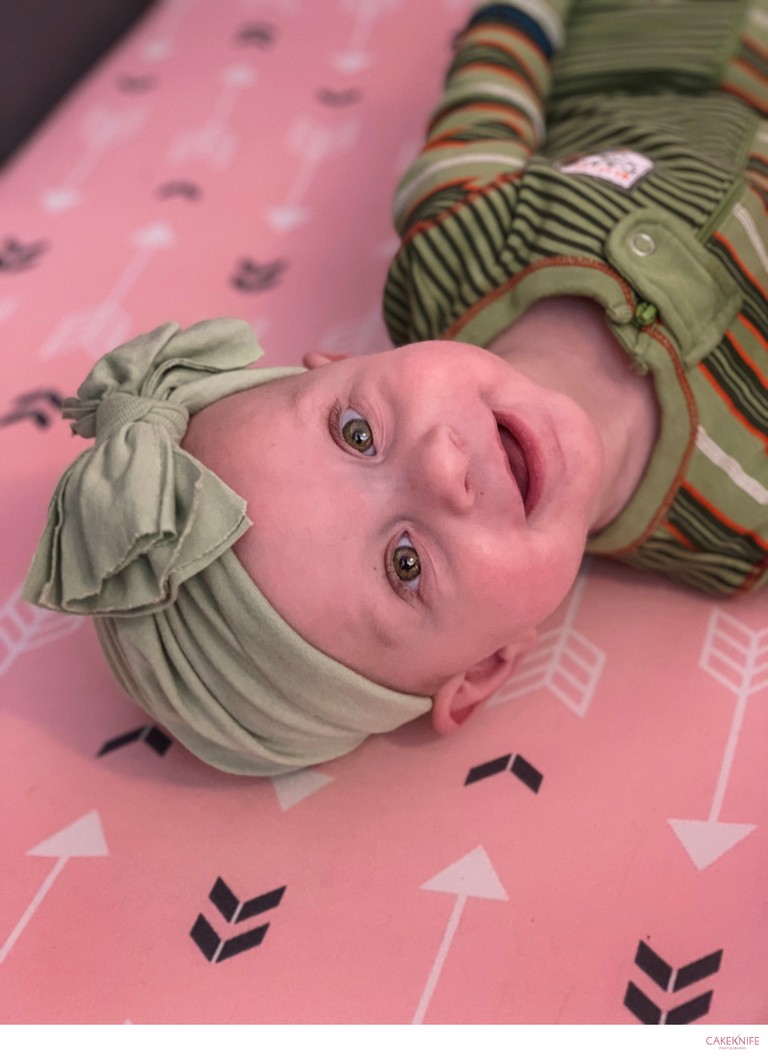 Baby Ruby.
On November 2nd, 2019 I gave birth to Ruby. She has a little social media following now, always sporting various head wraps. A little branding from her mama.
This was inspired by my own mother who always plopped a big flower on top of my head, especially on school picture day. My mom was a total pageant mother who loved dressing up her girls. Mostly my sister though, who was Little Miss Colorado. My mom put me in only one local pageant. I got third place, which isn't bad. Unless you take into account there were only three of us competing.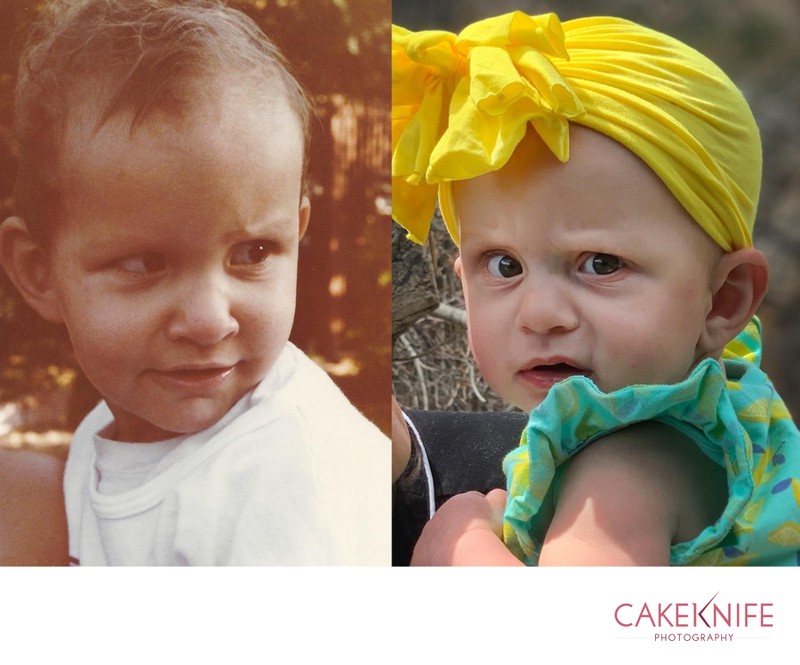 Like mother, like daughter. That's me on the left. We have the "whatchya talking about?" look down.
---
Facts About Me
I can tie my shoelaces in less than ½ a second. I've traveled to 45 countries. My favorite place on earth is Antarctica. My favorite color is red. I've watched Boogie Nights over 100 times. I'm obsessed with eyebrows. And I'm also six feet tall. That last part should be important to you because a taller photographer means a more flattering angle on your face. Why do you think selfies are so popular?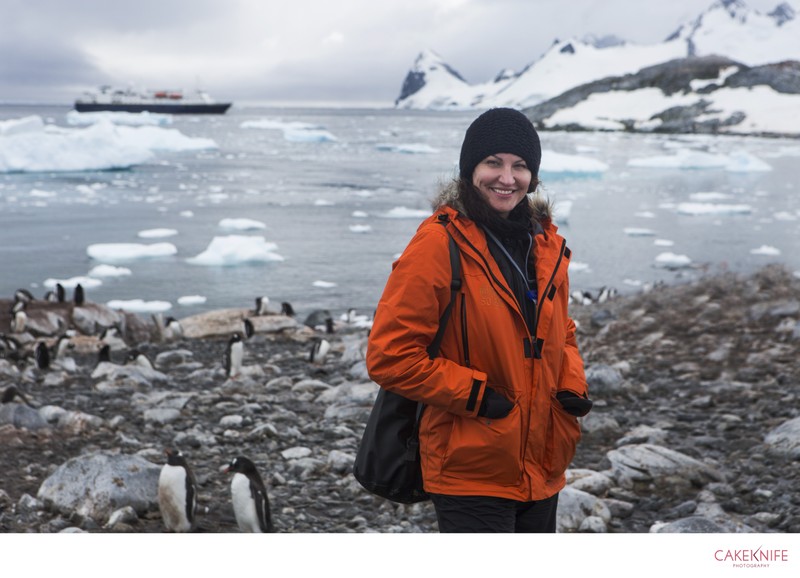 Me in Antarctica. I've traveled a lot but this place is my favorite. It's just so unique and "untouched".
---
On the Job
It's not only about being there to capture that "moment", but to do so with the perfect lighting, composition, and angle. How amazing would it be to have all our big moments in life captured in such a way? We can't, but on your wedding day, this is your chance.
Just like with magazines, every job is different, and fascinating in its own way. I apply the same skills learned from shooting celebrities in L.A. to shooting couples on their big day.
The goals are the same:
Always make the stars look good.

Capture beautifully-lit moments to tell a story that is compelling and memorable. Below are a few of our fun outtakes.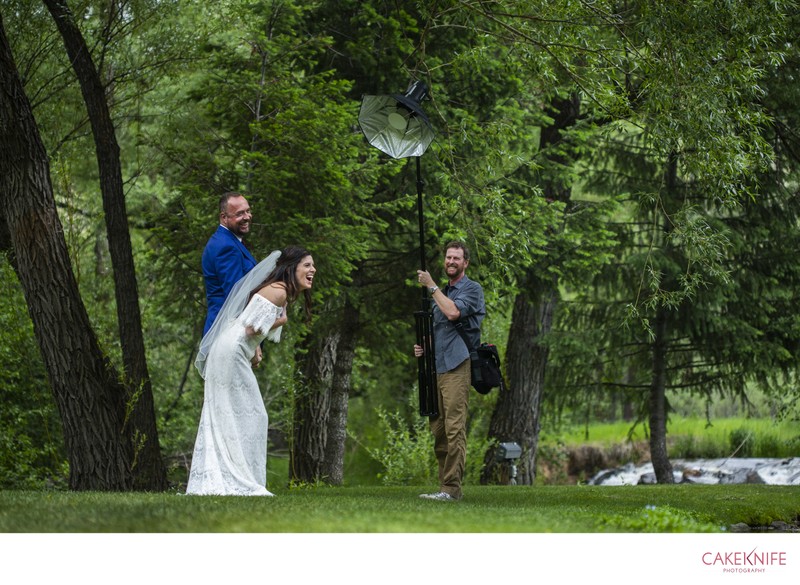 We always have fun.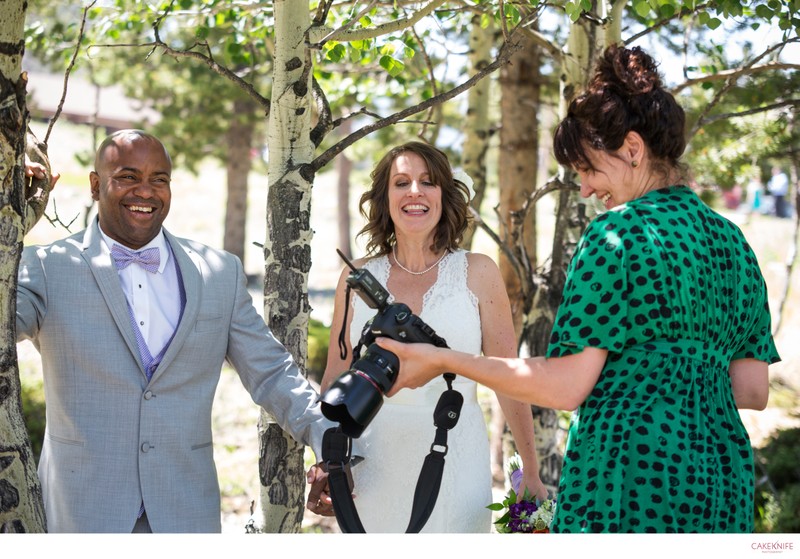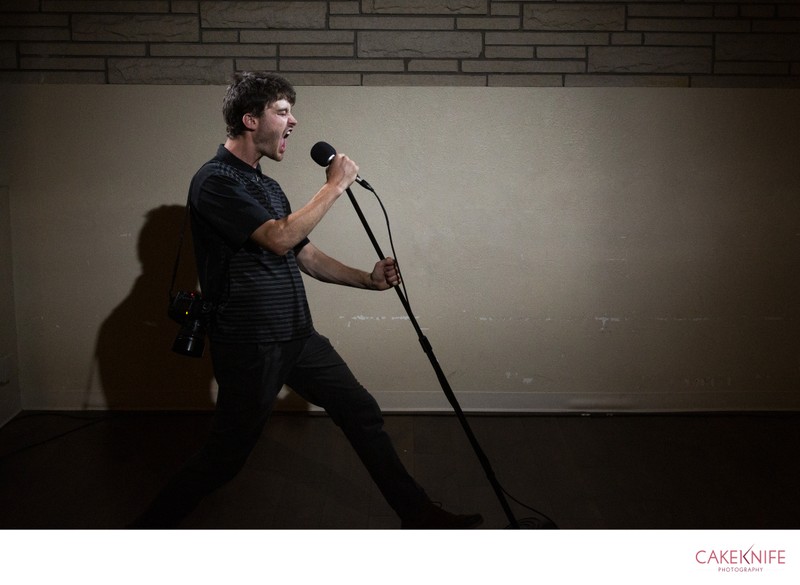 My assistant Beau who has been with me for five years. You can catch him always striking a funny pose for our test shots and cracking up the wedding party.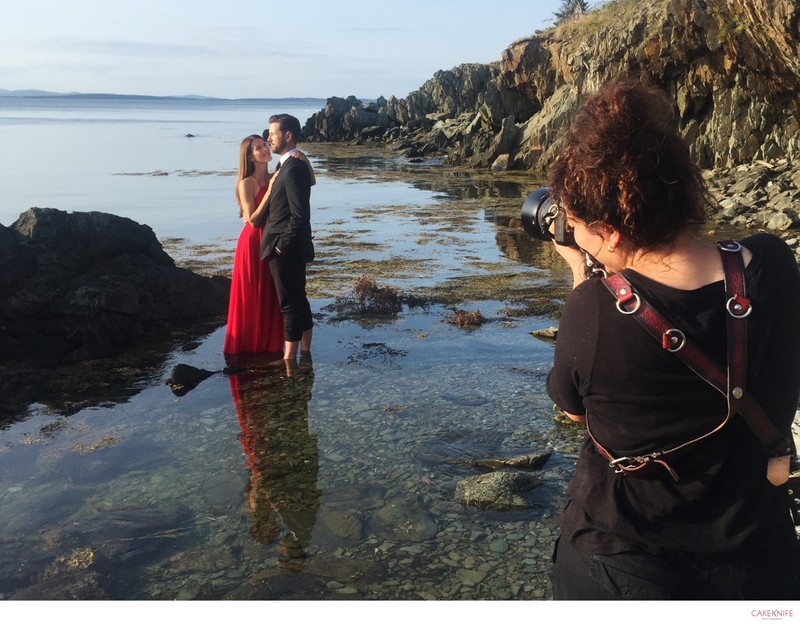 Engagement shoot in Maine.

Don't mind me sneaking up from behind to get that alternative angle.